What people say about DMJ!
See how DMJ Studios can help you create engaging, entertaining, and informative programming for a global audience.
I have known David for over 25 years. His talent, attention to detail and desire to deliver goes beyond expectations.
MERCEDES VELGOT
Emmy Award Winning Executive Producer ABC's Born to Explore with Richard Weise
DMJ has really been our communications partner. It's an investment that has paid off very well.
SAM FISHMAN
Managing Director
SINAI Schools
Internally we think of ideas, then we take them to DMJ. And DMJ always raises the bar and gives us even better ideas.
DEREK SAKER
Director of Communications
OHEL Family Services
The videos were really, really
a big hit at the event.
Thank you for pulling that off!
Sarah Powers
Dir Learning and Talent Development
FreedomCare
DMJ put together a great package, they shot great footage and wove it all together into a persuasive set of videos, the results have been fantastic
Brett Bekritsky​
Director of Marketing and
Communications
Working with DMJ Studios was an absolute pleasure! The whole team from start to finish from planning, organizing, and structuring the shoot allowed us to feel safe and comfortable during the creative process. DMJ was really hands on with assisting us with the script and providing creative input on our content to ensure it would be of amazing quality.
DMJ Studios has done amazing work for me. Their production team is easy to work with as well as diligent, creative, responsive, and thoughtful. I can't see enough about what a pleasure it has been to work with this top rate studio.
I used DMJ Studios for my latest Music video. I was absolutely thrilled with every part of the production. Professional, artistic, creative... just a wonderful experience from beginning to end. Thank you!
I brought DMJ Studios in last year to shoot and edit our TV commercials for The Rothenberg Law Firm. The film crew produced high-quality shots of the partners and our office, and it has been a pleasure to work with his team during the editing process. David's team collaborated with me throughout the project to customize the commercials based on our needs and delivered on-time. From market research we conducted, people surveyed scored our DMJ studio produced spots favorably. Viewers found the new spots to be genuine and higher end in tone. The majority of the respondents indicated they would be more likely to use The Rothenberg Law Firm's services after seeing our commercial. If you need video work done, David is your guy.
Highly recommend David and DMJ for the superb end-to-end performance making the video for Reserve Organization of America (ROA.org). David started from scratch, got "inside our minds" vis-a-vis organizational culture and intent, and with flawless execution provided us a top-rate product and experience! We'll use his team again!
The DMJ team has been essential to a significant part of our news/opinion products. David and his team are quick, knowledgeable on both a creative and technical level, and also great to work with on a personal level, which is extremely important to us. In addition, they "get it" which is to say, they studied our established brand, understood it, and then showed they were able to execute it swiftly when called on. We continue to rely on them to bolster our growing company, and we absolutely trust that they can handle whatever projects we give to them.
...From his [David Jasse's] great eye to detail to his managing skills he will always deliver a flawless great product!
I worked as an editor for DMJ Studios from 2017-2019. David is a uniquely gifted director and interviewer with an innate ability to bring out the most powerful moments from his subjects. The amount of superb material he brings back to the office is a gift to his editors. When necessary, he is also a master at the controls, cutting projects with seasoned efficiency. David wears many hats, inside and outside the editing room, and I look forward to collaborating with him again.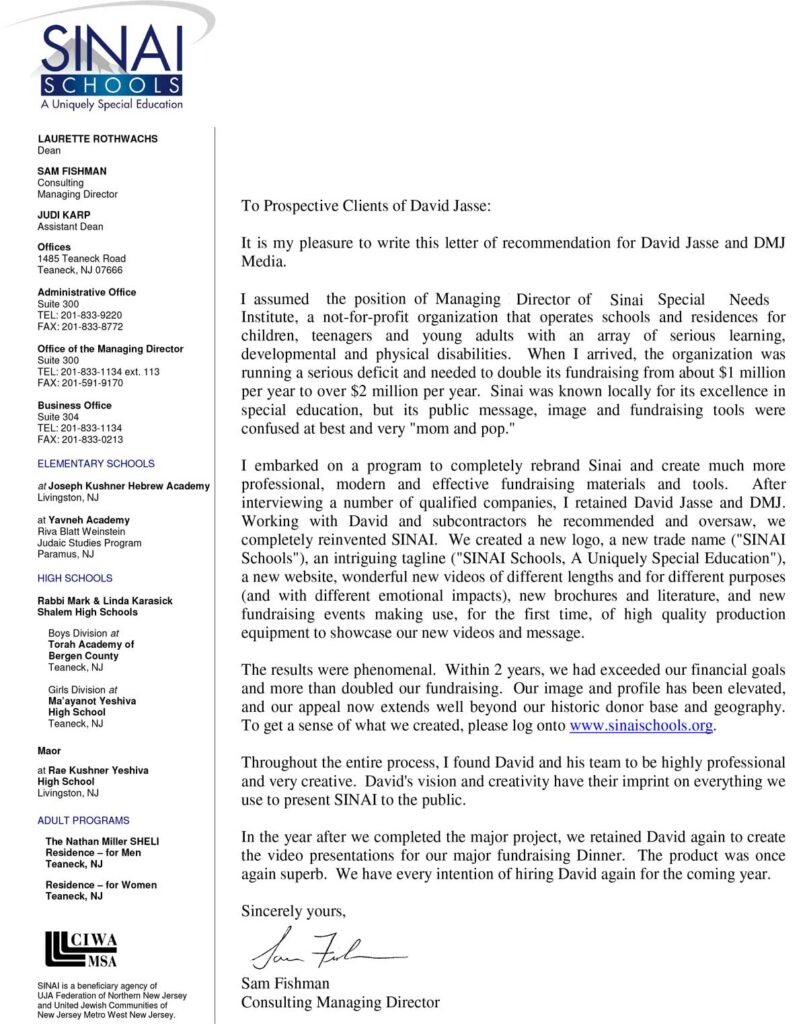 I have known David for over 20 years as a talented and dedicated Producer/Editor. We worked together for several years at Videofashion, where, as a young editor, he proved enthusiastic and extemely creative. He had a great sense of story telling through visuals and music. These skills have served him well as he continues to produce and direct. As a Director, he understands the client's needs, communicates well with talent and takes great pride in the final product.
DMJ is the place to go for great storytelling and thoughtful care to all their video production services. I have known David Jasse since our early days at CNN and he has continued to be a leader and mentor to all around him and in this industry.
David and the folks at DMJ Studios are very easy to work with and produce fabulous work. Our community was enthralled by the various films that DMJ produced promoting our programs and campaigns.
We want our clients to thrive & grow.
We expect big results from our collaboration.